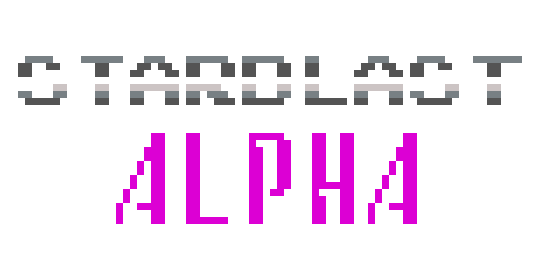 Starblast Alpha
A downloadable game for Windows
Starblast Alpha is a 2-D classic arcade video game combining both ping-pong and 2-D shoot 'em ups. Inspired by well-known titles such as Pong and Galaga, it is primarily based on old-style graphics and gameplay and was developed based on NES graphical and audio limitations (for the most part). Not much else to say on the game other than it's a product of an idea I conjured up one day.

(spoilers: it's already out.)
- STORY -
What story? It's an arcade game.
- GAMEPLAY -
You're given a space ship come built-in with a force field and a laser blaster. Your mission is to take down the enemy by any means necessary, either by shooting explosives or using the various power-ups provided, such as the Golden Bullet or the Trishot, shooting your way to victory! The two of you must balance a ball while soaring through the rapids of space. Miss the ball, loose the bullets. That simple. Don't worry, you can protect yourself!
- WHO'S BEHIND ALL THIS? -
Deaven Binion (CardinalCoder64) is the creator, programmer, composer, and artist of the game. He's been programming games for a couple years now, but this is his first official game release. Expect new titles to be announced from him in the future...
- SYSTEM REQUIREMENTS -
- Windows 7 or higher
- 1.2 GHz processor or higher
- 1 GB RAM or higher
- Integrated Graphics or higher
- If you're reading this, you can probably run this game.
- COMPATIBILITY -
- Windows PCs only*
- Joystick/controller compatible

*Ports for Mac, Linux, and possibly Android and iOS will be coming soon.
- CONTACT -
If you have any questions, comments, concerns, judgements, death threats, or anything else of that nature, please leave me an e-mail via cardinalcoder64@gmail.com. I promise I will try to look at it and respond to it if and when I can. ;)
Twitter: @CardinalCoder64
DOWNLOAD ONLY! (Browser version is available on Gamejolt if you're interested.)
Download
Download
Starblast Alpha (v1.6.6).zip
4 MB