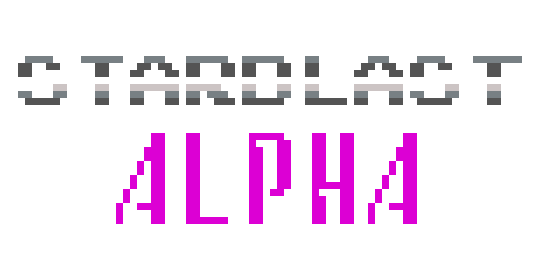 Starblast Alpha
A downloadable game for Windows
Starblast Alpha is a 2-D classic arcade video game combining both ping-pong and 2-D shoot 'em ups. Inspired by well-known titles such as Pong and Galaga, it is primarily based on old-style graphics and gameplay and was developed based on NES graphical and audio limitations (for the most part). Not much else to say on the game other than it's a product of an idea I conjured up one day.

(spoilers: it's already out.)
- STORY -
What story? It's an arcade game.
- GAMEPLAY -
You play as a space ship come built-in with a shield and a laser blaster. The goal is to bring your enemy's life from 5 to 0 using the ball that you and him balance amongst each other using the shields given. Shoot lasers to take down your opponent's defense, and if you have the golden bullet, take it down with one shot!
- WHO'S BEHIND ALL THIS? -
Deaven Binion (CardinalCoder64) is the creator, programmer, composer, and artist of the game. He's been programming games for a couple years now, but this is his first official game release. He doesn't like pineapples on pizza but likes 80's classic rock. Expect new titles to be announced from him in the future...
- SYSTEM REQUIREMENTS -
- Windows 7 or higher
- 1.2 GHz processor or higher
- 1 GB RAM or higher
- Integrated Graphics or higher
- If you're seeing this, you can probably run this game.
- COMPATIBILITY -
- Windows PCs only*
- Joystick/controller compatible

*Ports for Mac, Linux, and possibly Android and iOS will be coming soon.
- CONTACT -
If you have any questions, comments, concerns, judgements, death threats, or anything else of that nature, please leave me an e-mail via cardinalcoder64@gmail.com. I promise I will try to look at it and respond to it if and when I can. ;)
Twitter: @CardinalCoder64
Play it in your browser! https://starblastalpha.000webhostapp.com/